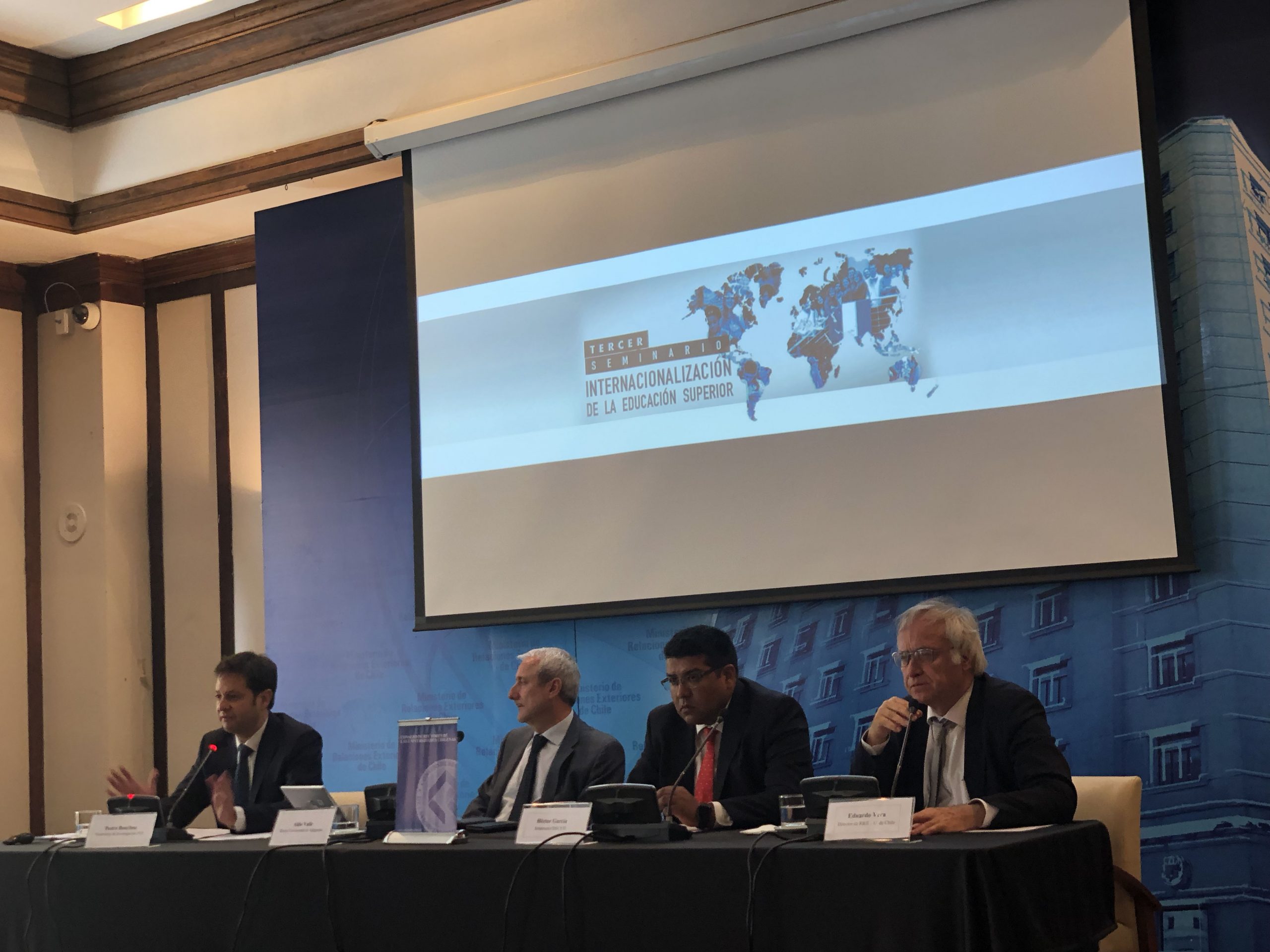 Thinking about internationalization beyond academic exchange, is the concept with which the seminar "Internationalization of Higher Education: Quality and Cooperation" began. An instance that is held for the third consecutive year thanks to the joint work between the Council of Rectors of the Chilean Universities (CRUCH, in Spanish) and the Ministry of Foreign Relations (MINREL, in Spanish), with the support of Universidad of Chile and Universidad Católica.
Promote cooperation between the different entities and move towards greater integration in the region, promoting educational and academic exchange in Latin America, is the call made by Gabriel Rodríguez, director of the Directorate of Energy, Science and Technology, and Innovation (DECYTI -MINREL, in Spanish).
For his part, University of Valparaíso's President, Aldo Valle, emphasized the commitment that universities have with national development and the need to be part of global development. "We have to give an account of how we insert ourselves as a country in the global reality, we must give signals of public policy," said the vice president of CRUCH, revealing that about 1% of the enrollment of Higher Education students corresponds to foreign students.
"We are at a turning point. Internationalization is not just going abroad, there is also the "internationalization at home", which, through contact with foreign academics and students, allows the entire university community to experience an international experience", affirmed the UC Vice-President for Research Affairs, Pedro Bouchon.
Likewise, Eduardo Vera, director of International Relations at Universidad de Chile, delved into the need to have contact with other cultures, such as that which occurs among researchers in academic forums with the best universities in the world.
In this context, the Director of Research Affairs Office, María Elena Boisier, presented the UC Internationalization Project. In its first stage sought to create an institutional framework for internationalization within the university and position the university as an international benchmark and increase the internationalization of research in certain priority areas. In addition, promoting research in the territories through the Network of UC Regional Centers and Stations, as a source of attraction for foreign researchers. Lastly, academic forums and other initiatives to link with institutions both nationals and foreigners.
The seminar addressed three key issues: quality, cooperation and challenges for the internationalization of Higher Education in Chile. Also participating were Iris Danowski, responsible for Latin America of the Conference of Rectors of Germany; Richard Stenelo, Director of Internationalization at the University of Lund, Sweden; Alfonso Muga, president of the National Accreditation Commission; Soledad Oregioni, Researcher at CONICET, Argentina; Jesús Sebastián, expert in Internationalization, Spain; Pablo García, Head of the AGCID Scholarship Program; Andree Henríquez, Director of the Internationalization Project of Universidad de Chile; Alexo Domínguez, in charge of the DFI – MINEDUC Project; and Rodrigo Monsalve, Representative PCI-CONICYT (TBC).