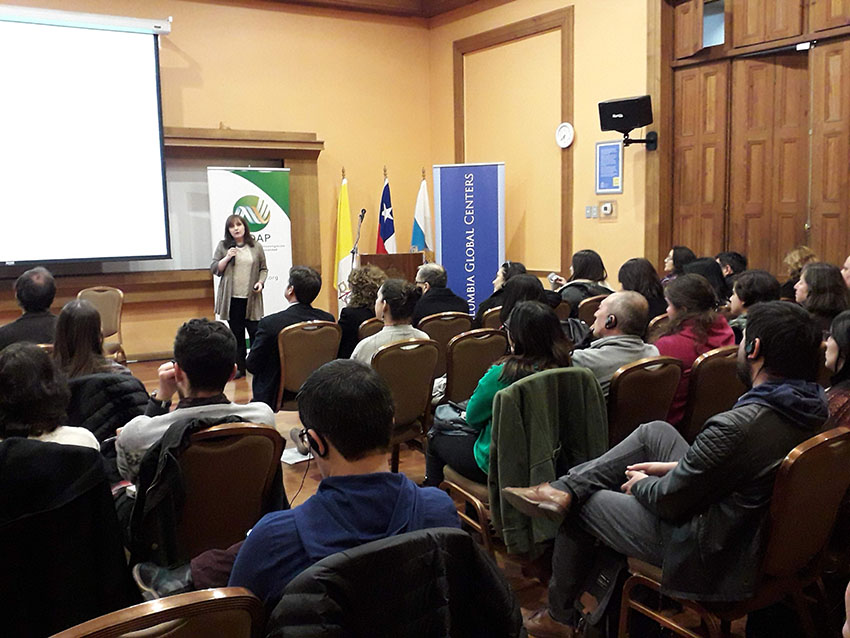 Depression is a global problem: it affects more than 300 million people in the world -according to 2018 World Health Organization estimates-, ranking third among the most common diseases of the population throughout the World. In Chile, 15.8% of people have depressive symptoms and 6.2% have a diagnosis of major depression, according to the latest National Health Survey (2016-2017). This is why the Millennium Institute for Research on Depression and Personality (MIDAP) (http://midap.org/), the Columbia Global Centers Santiago (https://globalcenters.columbia.edu/santiago) and the UC Research Affairs Office, organized the Cycle of International Conferences on Mental Health.
"New trends and challenges in global mental health" was the first meeting, which featured as a special guest Lena Verdeli, Associate Professor of Clinical Psychology and Director of Clinical Training at Teachers College of Columbia University. The meeting was opened by the UC Vice-President for Research Office, Pedro Bouchon and the director of MIDAP Juan Pablo Jiménez.
In her presentation, the academic emphasized the role of the community and the construction of support through psychotherapy groups. This can explain the differences in response rates in the treatment of patients in developing countries in contrast to those with higher levels of development. "These are often collective societies where it is difficult for people to think about themselves, so we need to shift the focus to interpersonal relationships when considering treatment," the expert said.
Her approach is based on her experience adapting and testing Interpersonal Psychotherapy (IPT) to treat depressed adults in war-torn Uganda, and who were also facing the AIDS epidemic. A similar treatment developed in countries like India, Haiti, and Lebanon.
During the conference, the heterogeneity of depressive symptoms was also analyzed and new treatment perspectives were discussed. Jaime Delgadillo (PhD, University of Sheffield), addressed "Precision Mental Health: learning from demographic data how to personalize psychotherapy". Precision medicine aims to direct interventions towards the individual, relying on advances in diagnostics and monitoring methods, using methods developed from demographic data. Through the use of big data, machine learning and artificial intelligence, it is possible to improve the treatment of depression, designing more appropriate interventions to the needs of the patient and their complexities.
Evidence-based practice was the theme developed by Michael Barkham (PhD FBPsS, University of Sheffield). This kind of therapy and its focus on treatments face various challenges. This is why it is necessary to develop a new paradigm that focuses on practice and treatment; an evidence-based practice, with an emphasis on routine practice, constant base measurements, willingness to collect and share data and develop networks with other practitioners. The central objectives should be related to the use of data to improve therapeutic practice, and also to improve methodological evidence and trials.
Finally, the director of MIDAP Research and professor at the UC School of Psychology, Alex Behn, addressed the sources of heterogeneity in depression. In the enormous heterogeneity that can be found between the symptoms of depression, there are some that have little relationship with others typical of this disease. The biggest problem in the diagnosis of depression is its lack of validity, which is why a better standard of diagnosis with new and more specific biological markers is required.
Coming up…
October 2019: "Prevention of adolescent suicide"
Madelyn Gould, Professor of Epidemiology in Psychiatry, Vagelos College of Physicians and Surgeons, Columbia University; and researcher at the New York Psychiatric Institute.
November 2019: "Teen Depression"
Pablo Goldberg, medical director of the Anxiety and Mood Treatment and Assessment (Y-TEAM) Program for Youth and Children, Columbia University.
January 2020: "Personality disorder"
Otto Kernberg, former president of the International Psychoanalytic Association and supervisor of the Center for Psychoanalytic Research and Training at Columbia University; and director of the Institute for Personality Disorders at Cornell University.
See conference in images (https://flic.kr/s/aHsmFdvsSM)